About Us – Goldfire
Nigeria Limited.
We remain the No. 1 Signage Company in Nigeria. Goldfire Nigeria Limited is uniquely positioned to meet the needs of its customers. With over 20 years experience providing quality signage products and supreme customer service, we are the top choice for signage and branding in Nigeria.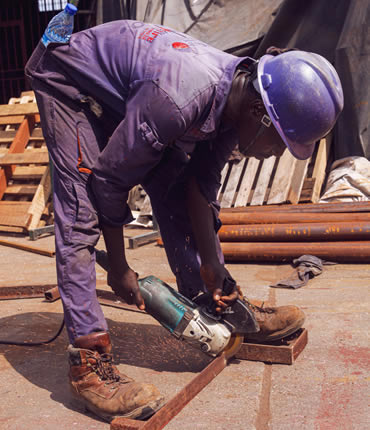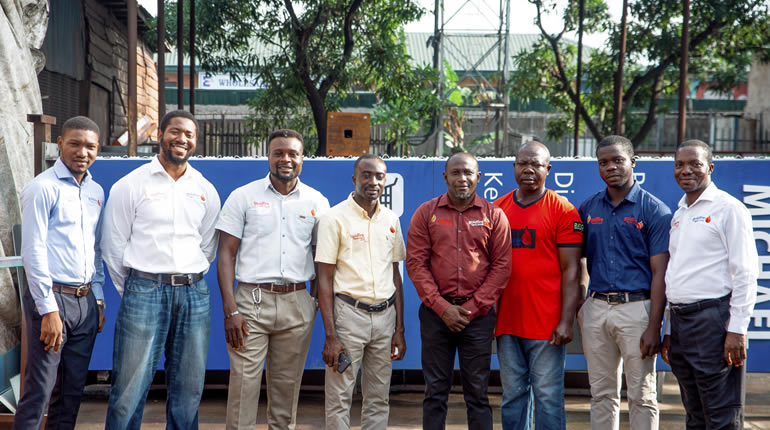 Who we are
Our History & Journey
Goldfire Nigeria Limited was born out of a clear vision in March 2001. Starting out with a staff strength of just five dedicated men and women, we have grown to become the leading signage, branding and graphics communications company in Nigeria. Goldfire now boasts of fully equipped technology-driven metal and plastic fabrication factories and a staff strength of 100.
Through hard work and consistency, we have continued to work with various Nigerian and international organizations to bring their brands' creative visions to life. Our primary focus is on the primary elements that assist organizations to offer themselves to the receiving public. We basically help your clients see you the way you see yourself. Our primary services include Signage design, production and installation, Brand Consultancy and Warehousing.
Our Clientelle
We have acquired in our client arsenal, a long list of industry performers across all major business sectors in the country with a growing list of international clients.
In the Oil, Gas and Energy sectors, we are proud that top players like TotalEnergies, Ardova Plc, ExxonMobil, Oando Plc, Techno Oil, Ascon Oil Company Ltd, Sahara Energy and TJ Petroleum have entrusted us with their branding, signage design, installation and maintenance needs.
In the Finance sector, we have been privileged to serve all major commercial banks and leading insurance companies in Nigeria such as GTCO Plc., United Bank for Africa, First Bank of Nigeria, Keystone Bank Limited, AXAMansard, Leadway Assurance Plc, Access Bank Plc, Stanbic IBTC and many more.
Goldfire Nigeria Limited remains a key player in the deployment and maintenance of signage and branding elements in the the Food & Retail industries. We have not been left out as we deploy signage for corporate food chains like Food Concepts Plc. (Chicken Republic), Mama Cass, Mr. Biggs, Kobis, KFC, The Place Restaurants, Awoof Berekete and many more.
We have developed a fail-proof brand re-positioning value-chain that encompasses a complete process, beginning with just an idea, developing it to brand conceptualization, to the actual signage manufacture and presentation, and finally to its installation.
Our international presence keeps growing at a rapid pace and we are on our way to becoming ranked among the top branding and signage companies in Africa. Our technical ability, creativity, exposure and wealth of experience is why companies continue to entrust the development of their corporate identity with us. We have become trend setters in the branding and signage industry, raising the bar and setting a standard for upcoming graphic communications companies.
International Partnerships

Rousseau, one of our international partners, is a leading industrial player in the design, manufacture and installation of brand visual identity products and public space equipment. Founded in 1921 by the Rousseau brothers, Rousseau has come to solidify its position as an international market leader in signage related services.
Memberships & Accreditations
In our bid to continually improve on our offerings, We have gained valuable local and international partnerships with like-minded companies. Some byproducts of these partnerships are as simple as providing conducive workspaces for our offsite jobs within and outside the country. We have also ensured to join various international and local trade and sign associations.




GOLDFIRE NIGERIA LIMITED is a proud member of the following Sign and Trade Associations – International Sign Association, The Sign Association of Nigeria, Advertising Practitioners Council of Nigeria, British- West African Forum, Nigerian-south African Chamber of Commerce & British Safety Council.
Subsidiaries
Liquidfire Engineering Services
Liquidfire Engineering Services provides a broad range of sustainable engineering solutions to a range of large industrial clients within and around West Africa. Their core operation is rooted in the design, fabrication, deployment and maintenance of secured ATM Kiosks, Portacabins and modular structures used as site offices, schools, event halls, health centers and much more at unbeatable market prices and in record time.
Ratio Services Limited
Ratio Services Limited is a full-blown engineering services & tooling company whose major operational strength is in revitalizing the Nigerian industrial sector, with unparalleled industrial sales, supplies, services and maintenance nationwide.
Our Vision
To remain mindful, that in every venture involving us, we radiate a light of excellence for everyone to see and emulate, particularly within the graphics communications, signage and advertising industries.
Our Mission
To help organizations project excellent first impressions and right image through the provision of creative and functional graphics communications tools, and in the process, become professionals of positive repute in the society at large.
Do You Have A Signage Project In Mind?
Goldfire Nigeria Limited is uniquely positioned to meet the needs of its customers. With over 20 years experience providing quality signage products and supreme customer service, we are the top choice for signage and branding in Nigeria.
From a simple individual sign to an entire sign system, Goldfire Nigeria Limited can match the requirements of any contract, large or small. Our factories and offices are equipped with cutting-edge technology and staffed with highly skilled personnel, able to tackle the most demanding jobs effectively and efficiently.
We are in the business of

breathing life

into brands and

repositioning

them for success. Talk to Goldfire today!